ABOUT US
Find out who we are and what we do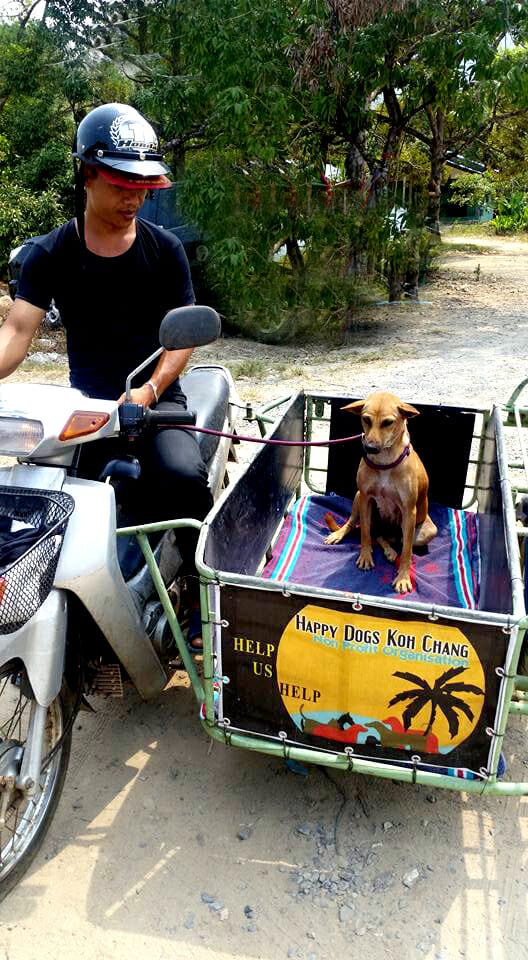 Happy Dogs Koh Chang
My name is Tina, I am of German origin and have been living in Thailand since 2004. The first 4 years in Samui, Koh Chang became home to me in 2008 and ever since I have care for those that have no voice, the stray dogs and cats of the island. Happy Dogs Koh Chang was founded in 2012 to reach out to animal lovers world wide for support in helping and saving the island's stray dogs and cats.
My main goal is spay/neuter to control the population of companion animals in an ethical and humane way. Relying entirely on donations, we need help and support from animal lovers such as yourself. Your support is mandatory to keep the dogs of Koh Chang alive, safe, happy and healthy.
It is heartwarming to see more and more people supporting us by following us on FB and Instagram, sharing our posts widely and supporting our tireless efforts fund-wise and with donations of food and doggy stuff. I am very grateful to have supporters helping with fostering, adopting and sponsoring our in-house dogs!
Making the island a better place for dogs and cats, relieving the suffering and pain of the animals on Koh Chang and to stop the barbaric and sadly common poisoning through education, sterilization and care was my main intention to start the project. As an organization founded purely from a heart of compassion for the countless number of suffering strays on the island, I won't ever stop to give the voiceless my voice.
Firstly the mission is to help the dogs and cats that no one cares for. Spay and neuter, feeding, treating, healing, first aid for the sick and injured. Offering shelter for the neglect and abandoned and all those that can't fend for themselves on the streets and of course adoptions. We have been quite successful over the past years homing our cuties to amazing homes and this is also one of my priorities – finding forever loving homes for our adorable, well socialized former strays.
Keeping the population of stray animals on the island down by means of the realization of humane spaying and neutering programs, was and still is a major priority to start with.
WHO WE ARE
Martina Moeller is the founder of Happy Dogs Koh Chang.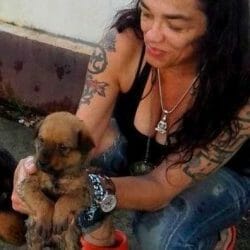 LONG TERM VOLUNTEERS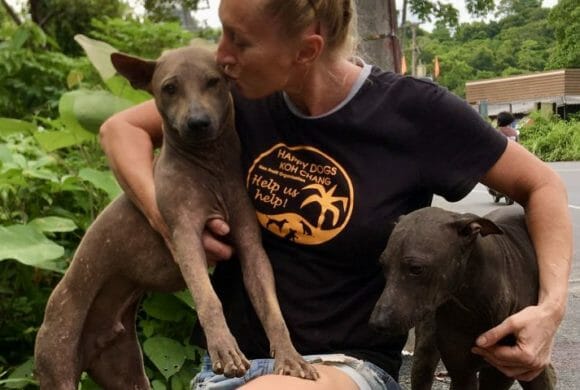 Agnes is a friend for many years and has helped out on several occasions before she became a full time volunteer. Being a trained nurse she is a very important part of the organisation treating dogs on the streets where a vet is not necessary. She is also the driver of our emergency van. Having…
All team members work voluntarily
Countless Strays in Koh Chang
0
street dogs supplied by us
We feed around 200 Dogs a day!
Opinions about our work
Tina, you are an angel!!! Special huge respect for people like you all over our fucked up planet!!!
Dejan Weih
Thank you Tina for your great work!!!
Astrid Westerman
Thank YOU for what you are doing every day!
Barbara Medei
What a great job you do for these dogs hip hip to you merry Christmas and a happy new year count down 12 weeks till I meet you xx
Tracy MCKee
Danke DIR liebe Martina dass du Tag ein, Tag aus deine Zeit und Energie in die Pflege dieser vergessenen Seelen investierst…. Die Welt braucht mehr Menschen wie dich. Ich kann es kaum erwarten wieder zu kommen… Dank dir, Christine und allen Hundis, hatte ich eine wundervolle Zeit hier…. DANKE nochmals, werde euch vermissen
Barbara Medei, Südtirol
Oh Gott ist das toll. Hab gleich Tränen in den Augen. Du leistest echt großartiges!
An Ne
Tina! For us, it's a honor to work with a strong woman like you and we're glad to be part of Happy Dogs Koh Chang team. Thank you for this opportunity and for the amazing job that you do over here. It's being the most beautiful experience of our lives.
♥
Amanda Alves, Volunteer
Ich auch, danke Euch tausendmal
️
Irene Fuchs, Switzerland
Tina, Du machst das wirklich toll. Ich konnte mich selber davon überzeugen. Es war eine wunderbare Erfahrung bei Euch helfen zu dürfen. Ich kann das Projekt nur weiter empfehlen. Happy Dogs Koh Chang ist wirklich seriös und voller Liebe und Leidenschaft für die Tiere geführt.
Maya Steinberger